We are excited to announce that artists Dozfy, Tori Shao, and Erin Shigaki have been selected to install three permanent murals in the University District!
In 2020, U District Partnership was awarded a Neighborhood Matching Fund Grant from the Seattle Department of Neighborhoods to launch the permanent Mural Program, an initiative to install three new works of public art on highly visible walls in the neighborhood. The murals will not only beautify the U District and build a sense of community among everyone who lives, works, and plays here, but they will also be the first step in a long-term public art program that adds vibrancy to our public realm for years to come.
Thank you to all of the artists who applied and submitted proposals for this exciting undertaking. 
Please contact katy@udistrictpartnership.org with any questions.
COMMUNITY PAINT DAY
Thank you to all of our volunteers who came out to support the mural artists during our Community Paint Day on July 17!  And a special thank you to Urban Artworks for partnering with us to support the artists and facilitate the event.
MEET THE MURAL ARTISTS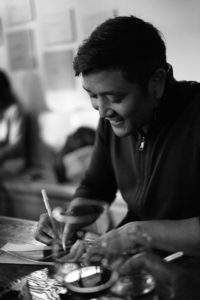 DOZFY
Patrick Nguyen, better known as Dozfy, was trained and mentored in portraiture painting by renowned African-American artist Michael Ray Charles at the University of Texas – Austin. Dozfy's style stems from extensive study of art techniques and history, while expressing the emotional power of art. While living in Atlanta, he began creating drawings for restaurants he enjoyed, eventually growing a national following for his menu art. A few years later, Dozfy moved to Seattle with his wife and was widely welcomed by the food industry; creating works for Salare, Hama Hama Oysters, Proper Fish, and more. His work has expanded into murals and through the pandemic, has been embraced in public spaces across the city of Seattle. Dozfy has been featured in Forbes, Seattle Refined, National Geographic, and Seattle Magazine, among other publications.
Learn more at dozfy.net | Follow on Instagram at @dozfy
MURAL LOCATION: NE 42nd Street and Roosevelt Ave NE at the Jack Straw Cultural Center
---
TORI SHAO
As a 2017 University of Washington Bachelor of Landscape Architecture graduate and landscape designer, the activation and enhancement of streetscape to amplify a place is at the forefront of Tori Shao's design practice. As a freelance illustrator and muralist, she is able to directly impact the streetscape, people's experience of public space, and amplify a sense of community with her work. While her illustration work encompasses several styles, her mural work is specifically designed to be bold, colorful, legible at a large scale, and optimizes installation time. Growing up in Seattle, Shao aims to create public art that resonates with the community where it is being installed. In 2020, she was commissioned by the UW Food Pantry to create a mural. Additionally, her individual and collaborative mural work activating shuttered businesses in Seattle during the pandemic, has been recognized in national media outlets.
Learn more at shaogals.com | Follow on Instagram @torikinn
MURAL LOCATION: NE 43rd Street and University Way NE, between Sweet Alchemy and Samir's Mediterranean
---

ERIN SHIGAKI
Erin Shigaki is a yonsei or fourth-generation Japanese American born and raised in Seattle, WA. She infuses untold community history and stories into murals and installations with a deep focus on racial and social justice. Shigaki is the recipient of grants and commissions from the City of Seattle Office of Arts & Culture, 4Culture, Densho, the Wing Luke Museum, and the Downtown Seattle Association, among others. She is also a community activist with the Minidoka Pilgrimage, Tsuru for Solidarity, and serves on the board of the TV program Look Listen + Learn. All of this work is fundamental to her artistic practice.
Learn more at purplegatedesign.com | Follow on Instagram @purplegatedesign
MURAL LOCATION: NE 42nd Street and University Way NE, on the north-facing wall of BB's Teriyaki
---
Header image courtesy of Urban Artworks