Monday, December 28, 2020
The U District Partnership (UDP) is pleased to announce the appointment of our new Executive Director. After a national search led by the UDP and University District Business Improvement Area (UDBIA) boards and supported by the search firm of Campbell & Company, Don Blakeney has been chosen to lead the organization. 
"We are excited to welcome Don to the UDP and to the University District. His extensive knowledge and experience in building strong and vibrant communities perfectly aligns with the vision and mission of our organization," shares Miles Richardson, UDP Co-Chair and General Manager, V.P., of Audi Seattle/ University VW.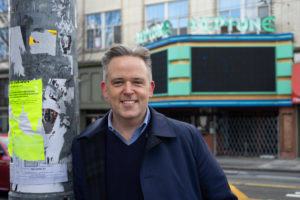 Blakeney's experience includes leadership roles in neighborhoods across Seattle and in New York City, including his recent position as the VP of Policy and Advocacy with the Downtown Seattle Association. Previously, Blakeney served as the Executive Director for the Chinatown-International District Business Improvement Area and as Senior Policy and Planning Analyst with the Times Square Alliance.
Born and raised in Seattle, Blakeney is also extensively known for his community work. He currently serves on the boards of Cornish College of the Arts, the Cal Anderson Park Alliance, and the Friends of the Benson Trolleys. He was also one of the co-founders of the notable Storefronts Seattle program activating vacant storefronts, in addition to working with South Downtown neighborhood stakeholders to launch the Seattle Square Market pilot program held in Pioneer Square's Occidental Park.
In addition to a bachelor's degree from Whitman College, Blakeney holds master's degrees in both Public Administration and Urban Planning from Columbia University.
"The search committee found Don's innovative approach to urban vitality and economic development particularly effective" says Maureen Ewing, Chair of the U District BIA and Executive Director of University Heights Center. "We are pleased to have a leader so qualified to lead our community's post-pandemic recovery and long-term strategic plan to serve all who live, work, and play in the U District."
UDP looks forward to welcoming Don Blakeney when he takes up his position at the end of January. "I am thrilled to join the UDP and grateful to be able to build on the solid foundation established by neighborhood leaders in recent years. Having grown up just a mile from the Ave, this feels a lot like coming home," said Blakeney. "The University District is one of Seattle's most dynamic neighborhoods and is poised for great things in the years ahead—with light rail, public realm improvements and thousands of new residents and daytime workers who will be able to support our small businesses." 
ABOUT THE U DISTRICT PARTNERSHIP
The U District Partnership (UDP) is an independent 501(c)(3) nonprofit organization with a mission to "serve all who work in, live in, and visit Seattle's University District by fostering and sustaining a vibrant, diverse, and healthy neighborhood for the common good." UDP is also partially funded by the U District Business Improvement Area (UDBIA). We provide services in four program areas: Clean & Safe, Economic Development, Urban Vitality, and Events & Marketing. 
CONTACT INFORMATION
For questions about this press release, please contact:
Marketing and Communications Manager
Pollyanna Yokokawa
pollyanna@udistrictpartnership.org
206.547.4417