The U District Partnership (UDP) works with a variety of city, community and campus partners to foster a safe and livable neighborhood for all who work, visit, and live in the neighborhood. UDP's safety program is a combination of advocacy, partnerships and direct services which include a safety ambassador program.
Daily Safety Ambassadors
UDP launched a pilot ambassador program in July 2017. Today, the ambassadors support the neighborhood with daily coverage in the U District. They provide directions to visitors, aid our unsheltered population, and consult with businesses on security issues. If you need safety support or want to report an urgent safety-related issue, please contact our ambassadors at (206) 422-2918.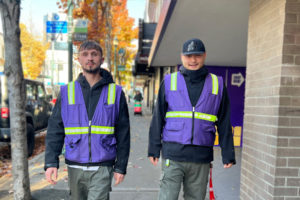 Service Hours
Monday – Friday | 7:30am – 11:00pm
Saturday – Sunday | 2:00pm – 10:00pm
Contact an Ambassador
To reach the Ambassadors directly during service hours, please call or text (206) 422-2918. They will respond promptly within the service hours listed above.
If you are experiencing a life-threatening emergency, please call 911.
Advocacy
UDP is a dedicated advocate for the U District and actively works to secure additional resources and policy solutions that impact major public safety outcomes. During the City of Seattle's budget development each year, UDP works closely with city leaders to ensure resources are allocated for important U District safety programs. UDP also meets regularly with the Seattle Mayor's Office, the Seattle Police Department, Seattle City Councilmembers and Departments, liquor enforcement agents, prosecuting attorneys as well as social service providers–each play a critical role in keeping the U District safe. 
Community Partnerships
In addition to government partners, UDP works closely with a variety of community partners to keep the U District safe. These partnerships include community and social service organizations like UHeights and KUOW, local businesses including Target, and of course, the University of Washington. 
Who To Contact
In the event of an emergency, please contact 911.

For ambassador support during service hours, contact the Ambassador main line at (206) 422-2918.

For more information or questions, reach out to Clean & Safe Program Manager Marcus Johnson at marcus@udistrictpartnership.org, or (206) 547-4417.