The U District should have a vibrant, attractive, and culturally diverse public realm to reflect the community in which we live and work.  UDP seeks out new resources and leads initiatives to beautify and activate the U District. Read below for some of the most recent placemaking programs coordinated and managed by UDP.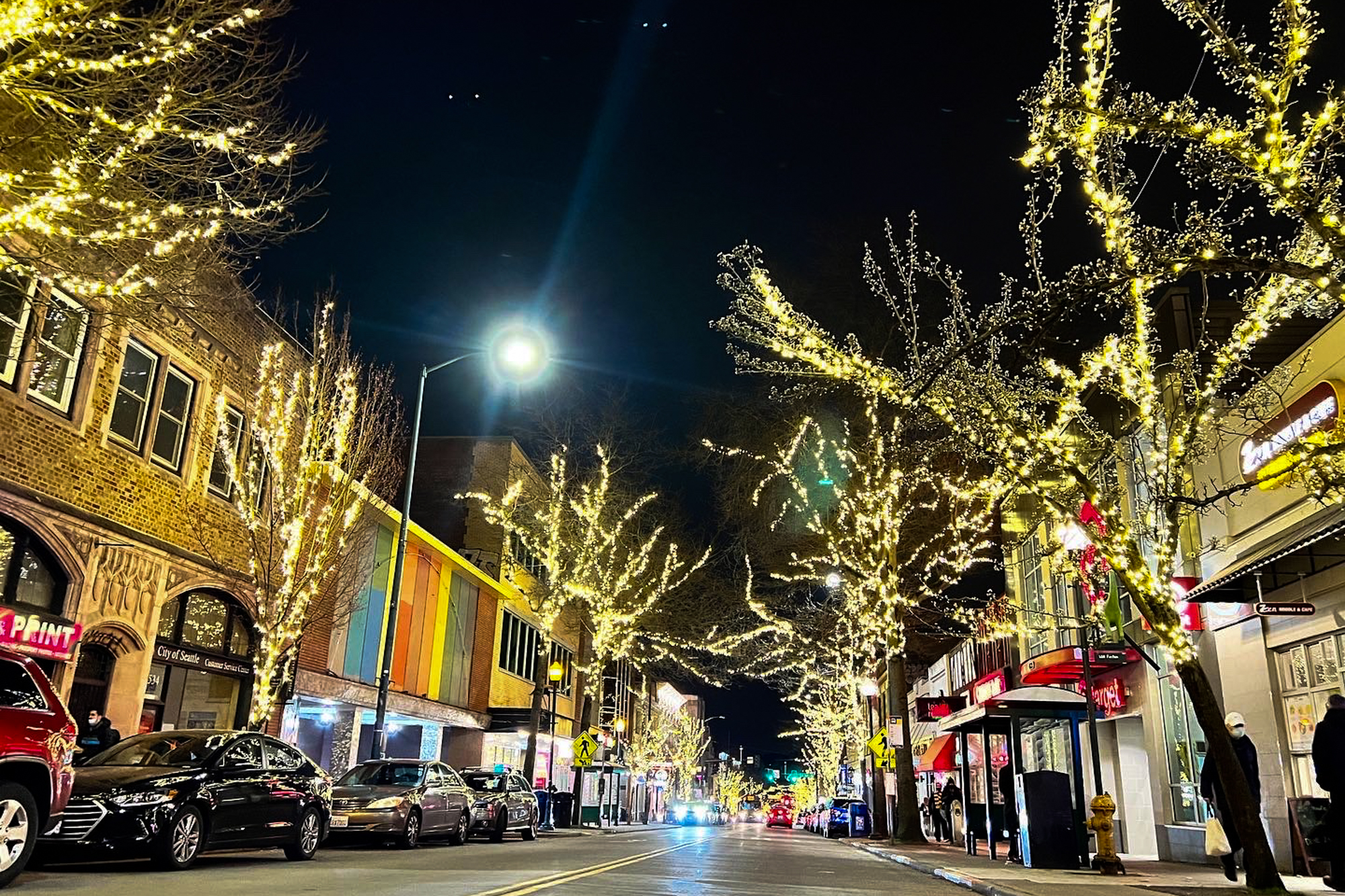 University Way Tree Lights
Take a nighttime walk down the U District's most popular street, University Way or "the Ave," and you'll find yourself under a canopy of twinkling street lights! The UDP's tree lighting program began in 2021 thanks to funding from the City of Seattle to improve the nighttime strolling experience on the Ave. The tree lights extend along the Ave from NE 41st to NE 47th Streets, and are up year round. In early 2023, UDP completed the Ave's tree lights by extending the lights from NE 47th to NE 50th Streets.
Building Wraps & Murals
Implementing public art is an essential way that UDP celebrates the vibrancy, culture and diversity of the neighborhood. In 2020, UDP received a City of Seattle grant to launch a U District Mural Program. Working with a diverse group of emerging Seattle artists and community members, UDP helped coordinate the installation of the program's first three murals in the neighborhood. Since 2020, UDP has led or collaborated on seven murals, and thanks to work by other organizations, property owners, and developers, the U District now has 12 murals, and counting. These murals celebrate Asian and Asian American heritage, women in science, mental health awareness, and more. Take a tour of the murals using this guide from the Seattle Times.
Artists, organizations, businesses, or property owners interested in collaborating on a U District mural are invited to contact Katy Ricchiuto, Urban Vitality Manager, at katy@udistrictpartnership.org.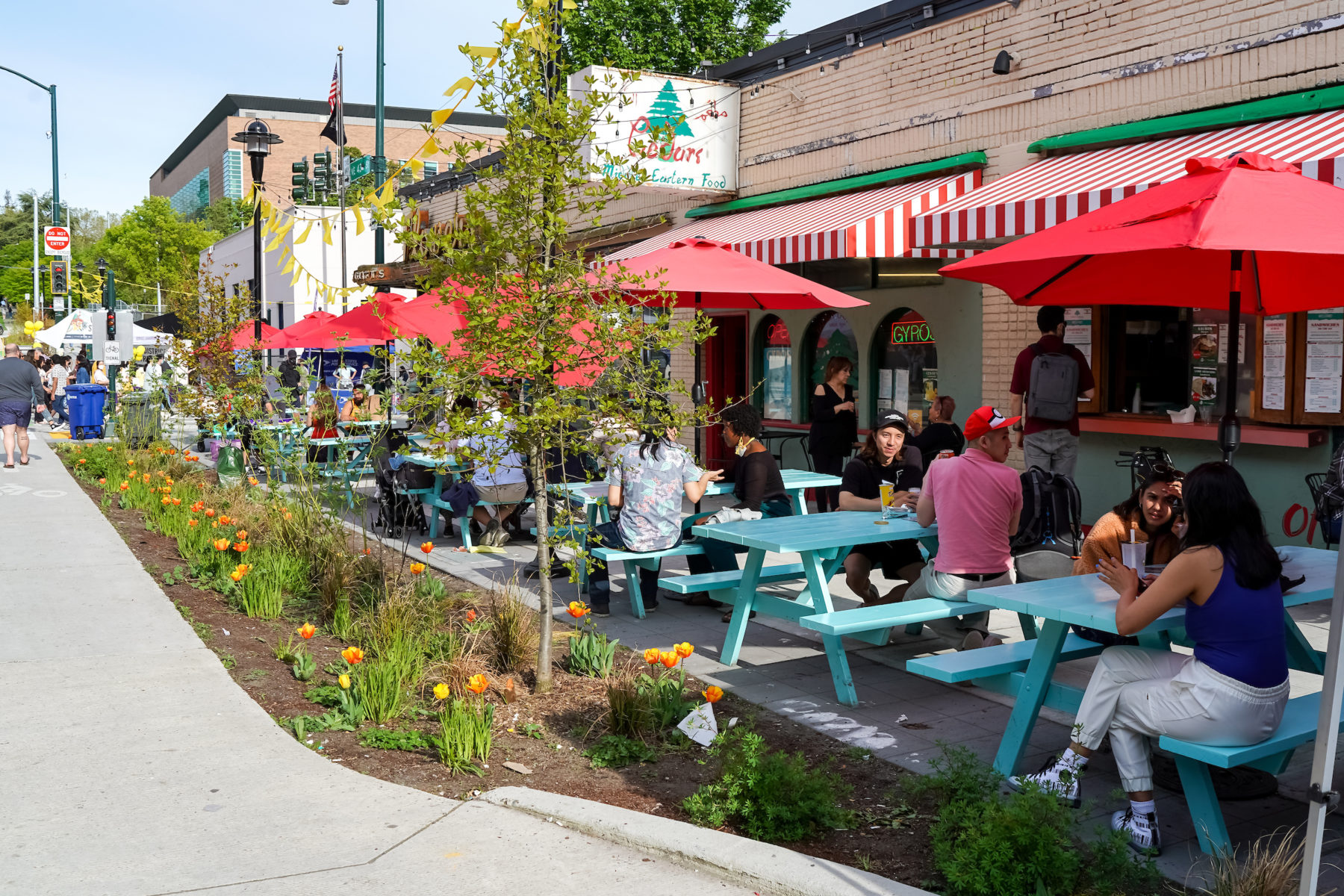 Spring Flowers
Each spring, UDP hangs bright-red flower baskets along the main commercial corridor of University Way. UDP also maintains the planters along NE 43rd St between U District Station and the UW campus, annually planting brightly colored flowers like spring tulips, daffodils, and crocuses. The flower baskets and flower beds greet visitors with color and vibrancy through the spring and summer.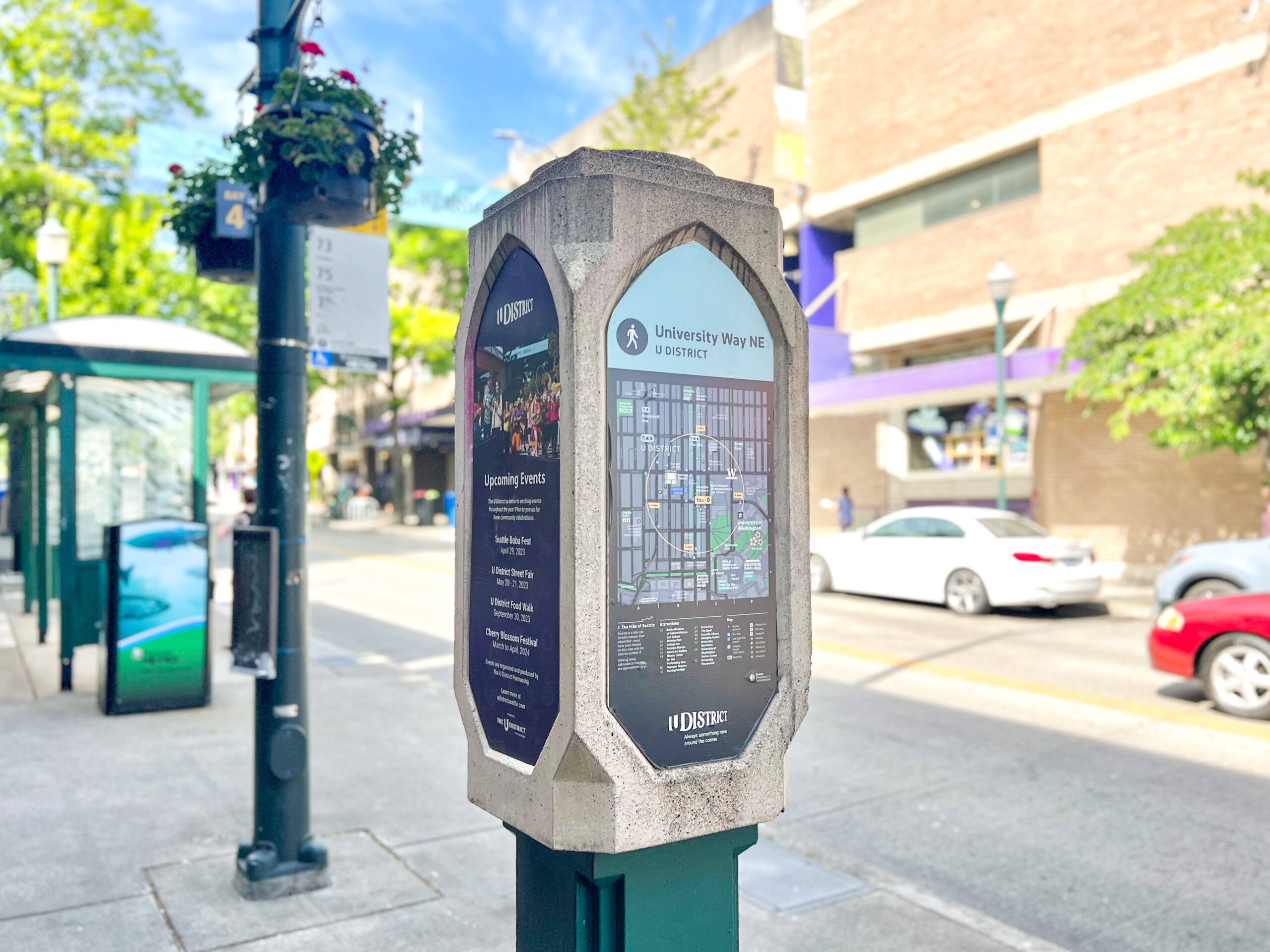 U District Signage
UDP designs and installs a variety of signage throughout the neighborhood to bolster a sense of place for the U District. This signage includes cross-street banners over University Way NE, wayfinding kiosks and other signage.